Exterior Home Cleaning For Efficient Dayton Residential Cleaning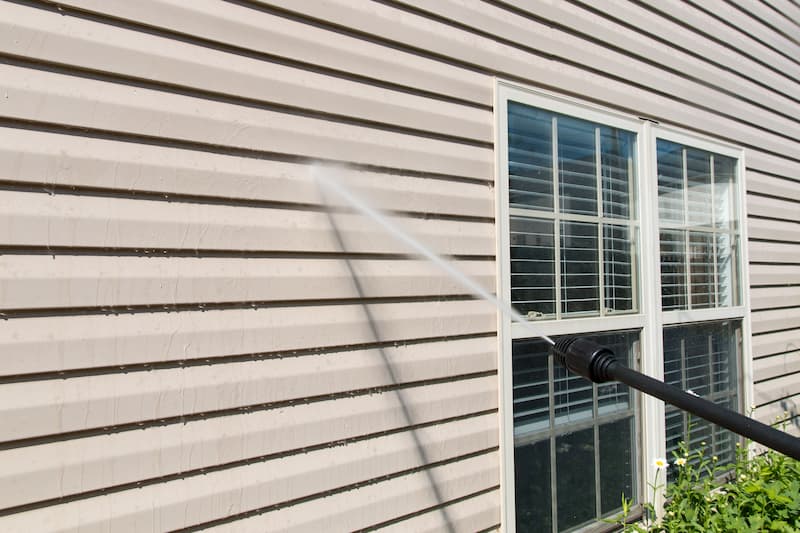 Your home's exterior surfaces can fall prey to staining, dirt, grime, mold, and more. One way to get rid of all that is by investing in house washing services. A&N Pro Cleaning can do that for you in an efficient manner. We have experience eliminating ugliness from homes and renewing surfaces with the magic of pressure washing.
With the results we deliver, homes are unrecognizable. Our quality of service helps you have the home of your dreams. The homes we've worked on have become stain-free and have never looked better. This service is even good to help you when you're thinking of repainting your home, as we give you a nice clean surface for the paint to really stick to.
Exterior House Washing Professionals
A clean home is a healthy home. Healthy for you, your family, and the environment. It's important to maintain your house to increase its value and ensure it lasts for years to come. House washing is the best way to keep the exterior in excellent condition.
Professional house washing from the pros at A&N Pro Cleaning is just a call away. Let us give your home the touch-up of excellent power washing and help it look like new!
Have you seen other house washing results in a glowing and beautiful facade? Do your neighbors have an impossibly clean house because of power washing? If you want to have a gorgeous facade again, too, contact us!
We're seasoned experts with loads of happy customers. If you hire us, you'll be one of them! Just imagine how amazing your house will look with years of dirt washed away by our incredible house washing service!
House Washing For Instant Curb Appeal Upgrades
If you want to make your Dayton home the shining star of the neighborhood, reach for the stars and call the house washing pros at A&N Pro Cleaning! Our skilled pressure washing professionals use specialized cleaning tools and eco-friendly cleaning agents along with our custom-tailored soft washing applications to give your Dayton home beautiful curb appeal.
You can always count on our house washing pros to give your Dayton home or vacation property the care it deserves. Our proven products and techniques are safe for all of your home's exterior surfaces, including:
Brick
Stucco
Vinyl siding
Wood
Hardie plank
And more!
Don't spend your free time fussing with exterior surface cleaning; give us a call at 937-789-1071 or use our easy online form to schedule a free estimate for Dayton pressure washing and the surrounding communities.
Exterior Home Cleaning To Brighten Things Up
Why is Dayton pressure washing homes so important? Of course, exterior home cleaning brightens things up and improves your overall curb appeal. However, don't get stuck thinking that house washing is merely a cosmetic enhancement, or you'll procrastinate and miss out on crucial benefits like:
Increase your property value or asking price when selling
Prepare for exterior painting or staining
Reduce and locate existing repair issues
Optimize the longevity of your home's exterior
Remove bacteria, germs, and pollen that pose health threats
The outside of your home is the first and last line of defense against the elements, and substances like mold and algae begin to accumulate over time. The buildup is often gradual enough that you don't notice how bad it's gotten, but your neighbors probably do! If you don't want to be the community eyesore, schedule your exterior cleaning today.
House Washing To Brighten Up Your Home Exteriors
Nothing can get your home back to its original beauty quite like professional house washing by A&N Pro Cleaning! If your Dayton home could use the help of an experienced, expert pressure washing crew, we're ready to serve you!
A&N Pro Cleaning is proud to be the top provider of professional Dayton pressure washing and the surrounding areas. We love helping our neighbors fall in love with their homes all over again, and that means we'll go to any length to ensure they're thrilled with the results we achieve. As your local house washing professionals, we want you to know that no one else is more prepared to take on any stain, substance, or grime that's on your property than us! Enjoy the peace of mind that comes from putting your home in expert hands by relying on A&N Pro Cleaning for all your pressure washing needs!
You worked hard for your home, so be proud of it and give your home the professional treatment it needs to look gorgeous and stay that way. For a dependable house washing service that's affordable and reliable in the Dayton area, call A&N Pro Cleaning at 937-789-1071.
House Washing Specialists: Taking Care Of Your Home's Exterior Surfaces
The pros at A&N Pro Cleaning offer the best house washing services in the Dayton area. Have us handle all your Dayton pressure washing needs to get the thorough house washing your home deserves.
Taking care of your home isn't always an easy task; we can help out with one of the more labor-intensive jobs to have your home looking its best. Our house washing service will leave your home looking years younger and give you a newfound appreciation for your property.
Even the toughest of dirt that gathers on your home's walls will come off easily with our professional house washing services. Allowing dirt to gather on the exterior of your home leaves it looking worse than it is. Have our professionals take care of the cleaning and see what a difference a freshly cleaned exterior can make for your home's exterior.
The outside of your home is also a prime location for various growths such as mold, mildew, algae, and fungus to grow. While these may not seem bad at first, these tough little invaders can gradually work their way into the structure of your home, leading to the formation of holes and cracks, which accumulate more water which leads to even more damage.
The beauty of house washing is that you not only reap the immediate benefits of removing contaminants and seeing your home regain its former glory, but you prevent having to take care of repairs in the future. Spending a little money in the present will result in huge savings in the long run and keep you as a homeowner happy and stress-free!
There's nothing quite as pleasant as the sight of a well-kept home exterior. Not only will you and your neighbors appreciate the clean, fresh appearance of your property, but it may raise your home's value too! When a home is dirtier than it needs to be, it can often wrongly devalue the property since the contaminants degrade your home's appearance. A house washing not only leaves it looking clean but gives you back your home's true worth.
House Washing To Instantly Improve Your Home's Curb Appeal
Looking for a dedicated house washing service for your Dayton residence? Then you'll want to check out A&N Pro Cleaning today.
We offer unparalleled Dayton pressure washing to residents and homeowners. What sets us apart from our competitors in the region isn't just our arsenal of commercial-grade pressure washing equipment and knowledge in the field but also our commitment to our craft. We'll do everything in our power to ensure you're satisfied with our work.
Trust Our Pros With Your Abode
Here at A&N Pro Cleaning, we take pride in our house washing knowledge and experience and our ability to do it properly, do it safely, and do it affordably and friendly. We guarantee that your home will look years newer, and you'll be as proud of it today as you were the day you bought it! Preserve, protect, and enhance the beauty of your Dayton home by giving us a call today.
Services We Offer Aside From Dayton House Washing
Building Washing
Commercial Pressure Washing
Deck Cleaning
Driveway Washing
Fence Washing
Graffiti Removal
Gutter Brightening
Gutter Cleaning
House Washing
Pool Enclosure Cleaning
Residential Pressure Washing
Roof Cleaning
Sidewalk Cleaning
Storefront Cleaning
---
Frequently Asked House Washing Questions
Pressure washing your house is a job best left to professionals. Professionals have the proper equipment and experience to provide a thorough and safe clean for your home's exterior.
Pressure washing can be used to clean siding, brick, stucco, decks, driveways, and walkways. Pressure washing can also be used to clean other outdoor surfaces, such as concrete, stone, or vinyl.
The process of pressure washing a house typically involves using a combination of low and high pressure washing tactics to remove dirt and debris from the surface of the house. The pressure washer can be used to clean the siding, brick, stucco, decks, driveways, and walkways. It can also be used to clean other outdoor surfaces, such as concrete, stone, or vinyl.
It is not recommended to pressure wash your house yourself. Pressure washing is a job best left to professionals, who have the proper equipment and experience to provide a thorough and safe clean for your home's exterior.
---
Recent House Washing Related Articles
Unexpected Benefits Of House Washing

When it comes to home maintenance, pressure washing may not be the first thing that comes to mind. However, there are numerous benefits of house washing that you may not have considered. Here are some unexpected benefits of having your home pressure washed. To schedule a house […]
Recent House Washing Projects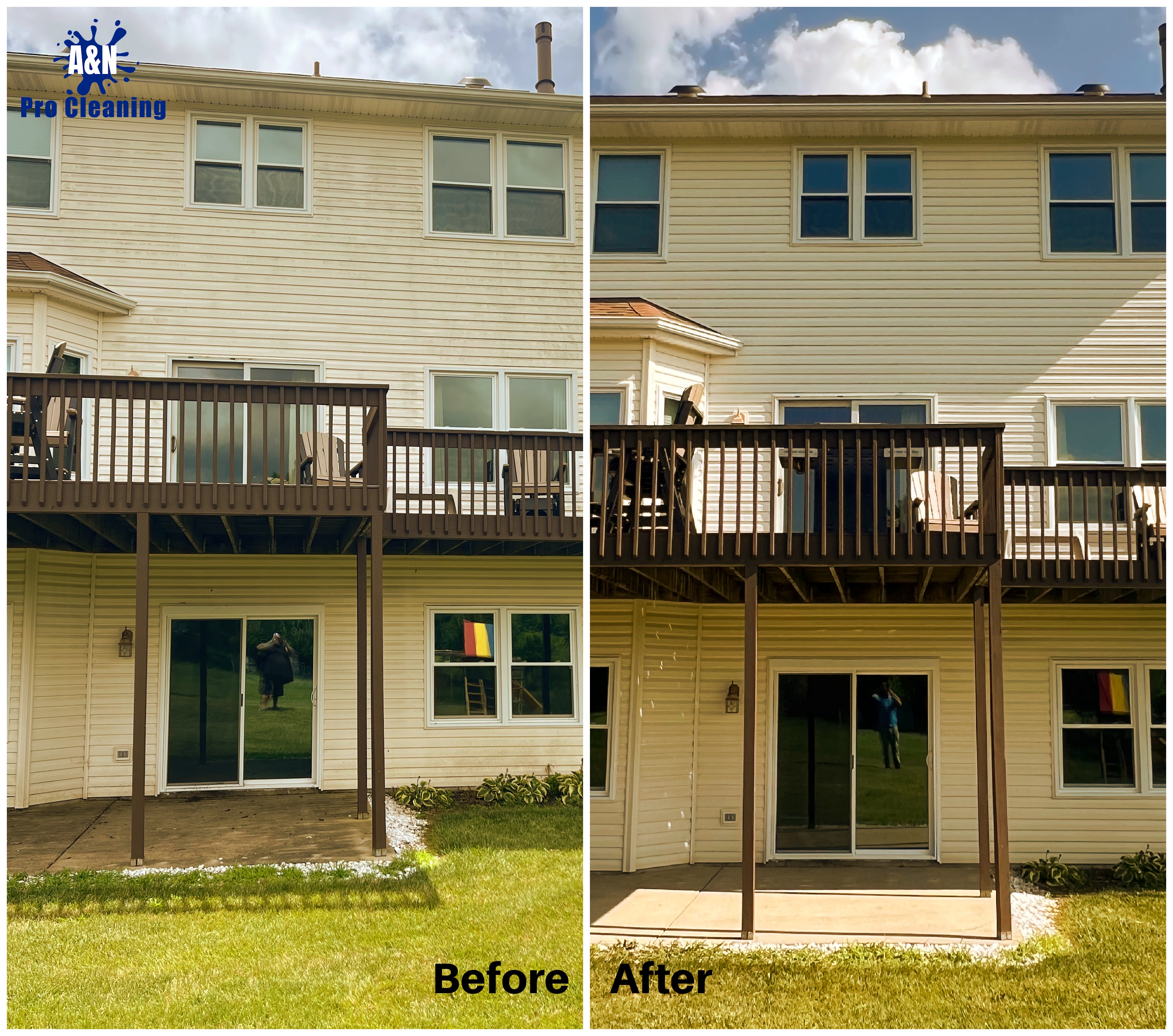 Vinyl House Washing Cedarville, OH
The customer reached out for an estimate for washing his house in Cedarville Ohio. We came out to see the house, We discussed all the mold and algae growth. He decided to go with our quote. We got started on the house by doing all the […]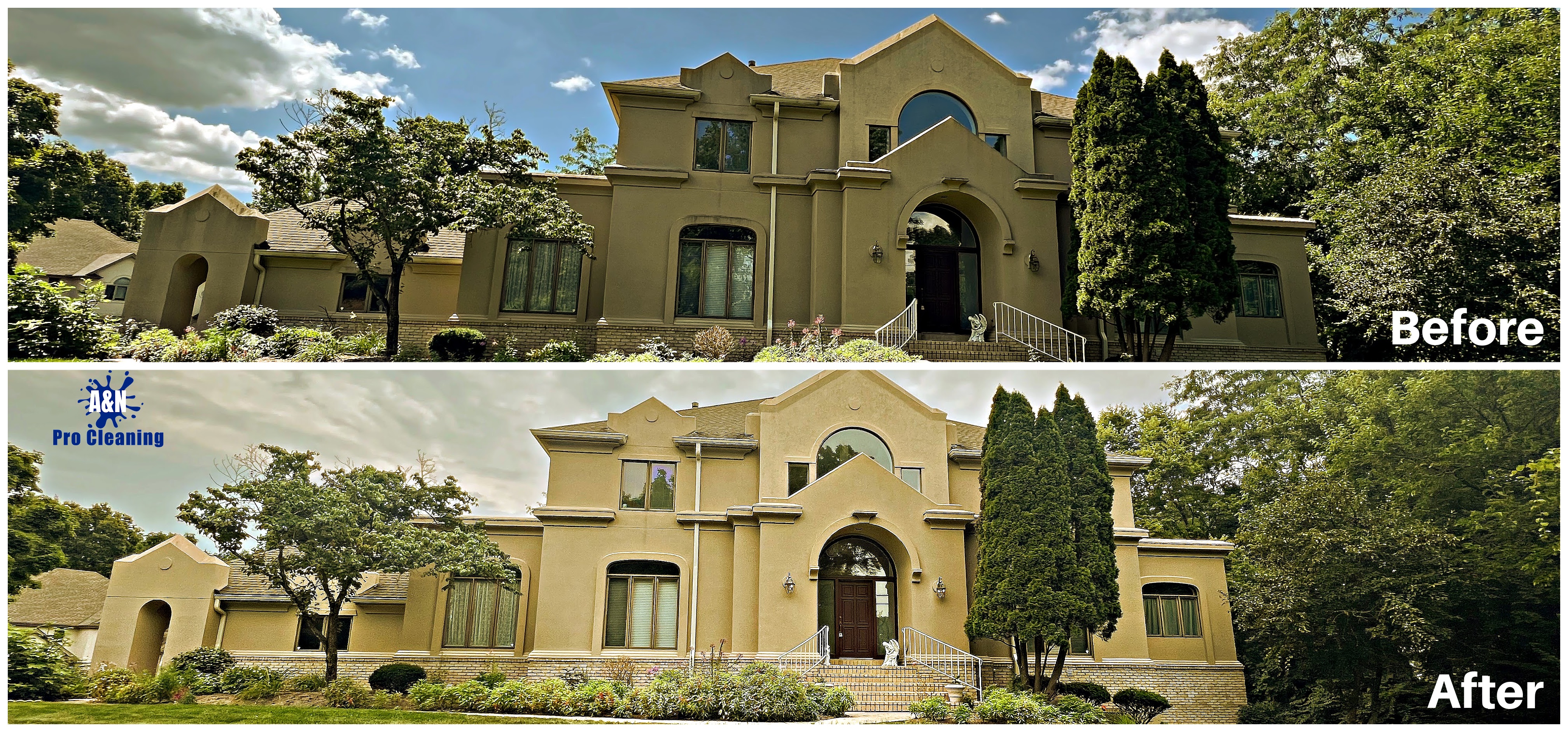 Stucco House Wash Centerville, OH
The customer reached out wanting an estimate. We set up a time for us to go to his house and provide a free estimate. He was located in Centerville OH. We walked around his property and discussed in detail everything he wanted done. After we talked […]
WASH YOUR HOUSE WITH OUR DAYTON PRESSURE WASHING COMPANY. GIVE US A CALL TODAY!