Sidewalk Cleaning & Walkway Pressure Washing for Dayton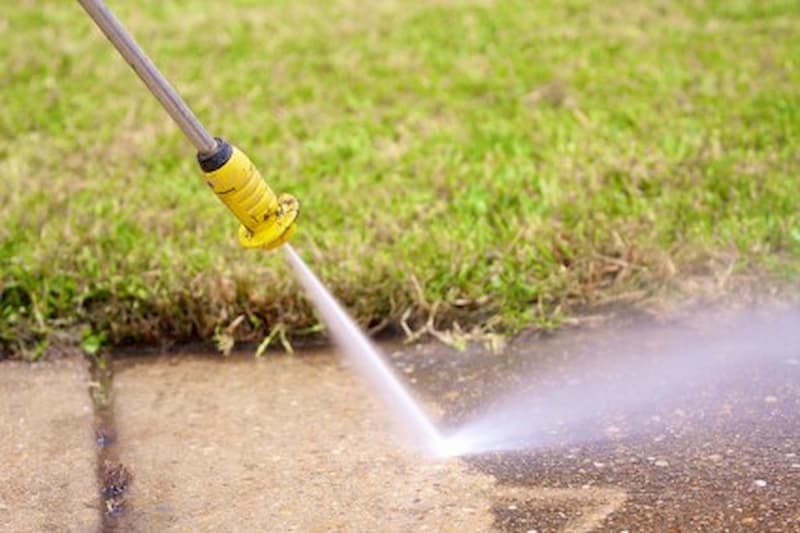 A&N Pro Cleaning can provide you with a level of quality care for jobs like sidewalk cleaning to help improve your Dayton area home. We'll keep your exterior surfaces and pathways clean with sidewalk, walkway, and exterior surface cleaning
Your outdoor features are exposed to the elements at all times; add to that the natural aging process and plenty of wear and tear and it's no wonder these components require regular cleaning. Our pressure washing experts are here to offer top-notch service to you. Our job is to take care of professional pressure washing, but our goal is to make sure you're entirely satisfied with our work.
If you need to schedule your sidewalk cleaning, please give us a call. We're eager to show you how we've earned our impeccable reputation in person.
Heavy Dirt From Heavy Foot Traffic: Take Care Of It With Sidewalk Cleaning
Sidewalks, like a lot of concrete surfaces, are tough and durable. Even with being able to withstand anything you could throw at it, sidewalks are not impervious to staining or grime. Sidewalks see a lot of foot traffic throughout the year, and this can lead your sidewalk to be ugly, stained, messy, and just unpleasant to walk on.
Sidewalk cleaning by A&N Pro Cleaning can help you turn back the clock on your sidewalk and transform it anew.
Sidewalk Cleaning For Safer, Cleaner Walkways
If you've been searching for sidewalk cleaning services in Dayton, we are your top-rated choice. Sidewalks are under constant use, so they sustain a lot of wear and tear. Their once-clean appearance gives way as dirt and grime take over. You may not even notice that your sidewalks are dingy until you have them pressure washed and can see the difference.
Don't put off sidewalk cleaning any longer. Reach out to our expert team of pressure washing technicians for your free consultation! We can answer your questions and then schedule your pressure washing service for whenever is convenient for you.
Pressure washing for Dayton sidewalks is a smart investment.
Sidewalk Cleaning To Care For Your Walkways
Boost your Dayton home's curb appeal starting from the street with an exceptional sidewalk cleaning service from A&N Pro Cleaning. You'll be amazed at the difference a powerful cleaning can make.
The sidewalk of your property provides more than a pathway for passersby; it makes the first impression of your home. With a sidewalk cleaning from A&N Pro Cleaning, you can ensure that your property is putting its best foot forward.
Pavement pathways are constantly inundated by the elements, allowing mold and mildew to stick to your sidewalk and create a slippery, hazardous surface. With professional sidewalk cleaning and proper maintenance, your sidewalk can remain clear and safe for anyone passing by.
Schedule a sidewalk cleaning with A&N Pro Cleaning for your Dayton property and have your curbside properly cared for!
Walking Path Pressure Washing To Keep Your Property Looking Great
The walkways and sidewalks around your property are your responsibility when it comes to maintenance and cleaning. Over time, heavy foot traffic will cause this area of your home to be covered in all sorts of grime. If you don't act quickly, your walkways will begin to crack or break. Someone can get hurt on your walkway, and you can be held legally responsible. Rather than dealing with all these headaches, we advise you to look into our sidewalk cleaning service.
We use a combination of high water pressure and eco-friendly soaps to create a powerful detergent that will eat away at even the most stubborn gunk on your sidewalk surface. We wash front to back, side to side, leaving behind no uncleaned surface. After we've completed our first sidewalk cleaning session, you'll be begging us to come back for follow-up appointments to ensure this area remains clean year-round.
Call Us For Clean And Bright Walkways & Sidewalks
If you need sidewalk cleaning for your Dayton home, then A&N Pro Cleaning is the expert you need to call! However, our expertise goes far behind concrete walkways. For affordable rates, our team will be able to transform your house exterior from top to bottom and leave you with results we know you'll love. Reach out to us today to learn more about our work can help you and get one step closer to restoring your home's original beauty.
Professional Sidewalk Cleaning To Keep Your Walkways Looking Great
When it comes to top professional sidewalk cleaning for both residential and commercial properties located in Dayton and the surrounding areas, you simply can't go wrong with the exterior cleaning expertise offered here at A&N Pro Cleaning. We provide world-class pressure washing for Dayton homes and businesses at an affordable price point that fits nearly any exterior property maintenance budget, making our services more accessible than ever. If you're in the market for a trusted pressure washing company that will treat you and your property with the greatest care, then you've come to exactly the right place!
Sidewalk Cleaning For Superior Walkways
Most home and business owners don't realize how important Dayton sidewalk cleaning is. It's not common knowledge that cement is porous, meaning unwanted drippings—like gasoline, grease, coolant, and other engine-based liquids—can seep into these tiny porous bubbles over extended periods. This means that longstanding stains don't just sit on the surface but can soak deeper into the concrete, creating stains that are more ingrained and harder to uproot after a simple washing.
A&N Pro Cleaning has industrial pressure washers that produce high-pressure water force that cement can endure. These high-pressure washers are ideal for Dayton sidewalk cleaning because they can handle the cement and concrete that most sidewalks are made of. The high-force water shoots at the cement and drives its way deep into the pores, pushing out unwanted dirt and grime that has seeped far into the cement. Cement is a durable material that can withstand high forces, so this type of washing is well-suited for sidewalks.
Services We Offer Aside From Dayton Sidewalk Cleaning
Building Washing
Commercial Pressure Washing
Deck Cleaning
Driveway Washing
Dumpster Pad Cleaning
Graffiti Removal
Gutter Brightening
Gutter Cleaning
House Washing
Pool Enclosure Cleaning
Residential Pressure Washing
Roof Cleaning
Sidewalk Cleaning
Storefront Cleaning
---
Frequently Asked Sidewalk Cleaning Questions
Professional pressure washers typically use high-pressure jets of water to quickly remove dirt, debris, and other substances from a sidewalk. In addition, they may also use specialized cleaning solutions that are designed to break down tough dirt and grime. Pressure washing equipment can also vary in size and power, depending on the size of the sidewalk and the type of cleaning that is needed.
Pressure washing and sidewalk cleaning require the use of specialized equipment that can be dangerous if used improperly. If you do not have the proper training and experience, attempting to pressure wash a sidewalk can lead to serious injury. In addition, if you do not have the right equipment, the results may not be as effective as those achieved by a professional pressure washer. For safety and optimal results, it is best to hire a professional sidewalk cleaning company.
Our professional pressure washing services use the latest and most effective equipment. Our technicians use high-powered pressure washers with specialized nozzles and attachments to ensure that the job is done right. We also use top-of-the-line cleaning solutions and detergents to thoroughly clean your sidewalk and leave it looking like new. Contact us today to learn more about the equipment and solutions we use for our pressure washing services.
It is best to have your sidewalk professionally cleaned at least once a year. This will help ensure that dirt, grime, and other debris don't accumulate and cause damage to your sidewalk. In addition, regular pressure washing can help keep your sidewalk looking great and can even help prevent the growth of mold and mildew. Contact us today to learn more about our professional pressure washing services and how they can help keep your sidewalk clean and looking great.
WASH YOUR HOUSE WITH OUR DAYTON PRESSURE WASHING COMPANY. GIVE US A CALL TODAY!